Boracay
---
Boracay Island, one of the top beaches in the Philippines, is blessed with a long stretch of powdery white sand beach, crystal clear and azure waters, a stunning sunset and more. The island doesn't fall short on adventures and activities for people of all ages.
You'll never run out of exciting things to do in Boracay, from swimming, island-hopping, diving, snorkeling, parasailing, kayaking, dining and parties. Because of these, Boracay has been cited multiple times as one of the best islands and beaches in the world according to reputable publications and travelers' choice lists.
Best Time To Go
---
Dry Season - December to May
You can enjoy Boracay all year round, but the best season to experience the island and its beaches are from December to May, the dry season in the Philippines.
Peak Season - March to May
Boracay's peak season is from March to May, the country's summer months. During this period, Boracay becomes the go-to beach destination for Filipinos. Additionally, you can include national holidays when planning a trip to Boracay.
Getting to Boracay
---
By Air - Caticlan Airport
If you're coming from Manila, the capital of the Philippines located in Luzon, take a 1-hour domestic flight from the Ninoy Aquino International Airport to Caticlan.
By Air - Caticlan Airport
Some flights to Boracay also land at Kalibo International Airport which is also a 1-hour flight from Manila.
Ferry Transfer
From Caticlan Airport, you will be driven to the Caticlan Jetty Port with an estimated travel time of 15mins. From Kalibo Airport, it is a 2-hour drive going to Caticlan Jetty Port. When you arrive at Caticlan Jetty Port, there will be a ferry that goes to the island of Boracay.
Note to Travelers:
All travellers entering the Island of Boracay must have a booking with an accredited hotel/resort. You will not be allowed to enter the island without a booking.
For information on transportation going to Boracay, please consult with your booked hotel/resort.
Puka Beach
---
The island is known for its powdery white sand and gorgeous, pristine beaches. Even though it's a small island, you can't reach all the beaches of Boracay on foot. You can either join an island hopping tour or ride a tricycle going to other beaches.
Willy's Rock
---
Situated one hundred meters off shore, in the shallow water near Boat Station 1, Willy's Rock is a castle-like volcanic formation that dominates the seascape along White Beach. Facing the beach are stairs leading to a chapel at the top, which contains a statue of the Virgin Mary. Willy's Rock is the most photographed landmark on Boracay and offers a commanding view of the island.
Paraw Sailing
---
Boracay is famous for its beautiful sunsets, and the best way to take Instagrammable photos is to ride a paraw sailboat at sunset. If you want a budget-friendly paraw sailing experience, schedule your island hopping in the morning. You can explore the different islands of Boracay and witness the beautiful sunset on your way back to White Beach!


Shopping At D'Mall
---
Boracay's shopping areas, D'Mall and D'Talipapa, are teeming with shops selling souvenirs, beachwear, gear, snacks, and treats. D'Mall is an open-air mall in Station 2, at the center of White Beach. D'Talipapa, a 10-minute walk from D'Mall, has souvenir shops as well but it's more known as a seafood restaurant haven. You can buy the freshest catch in their wet market and have them cook it for you.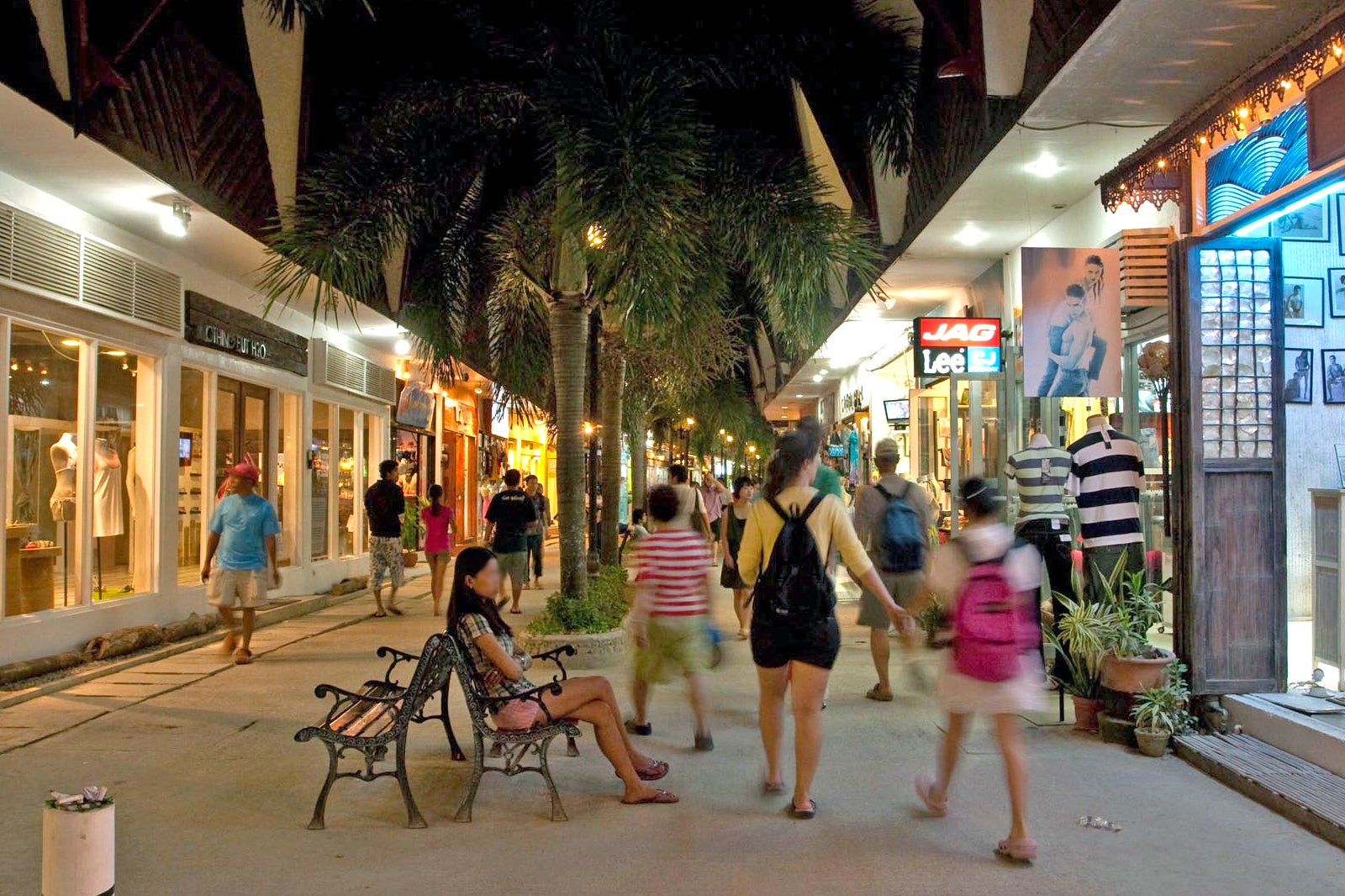 Mermaid Academy
---
Mermaid lessons are one of the most popular attractions in Boracay. Wear a pretty mermaid tail and explore the tranquil waters of Boracay.